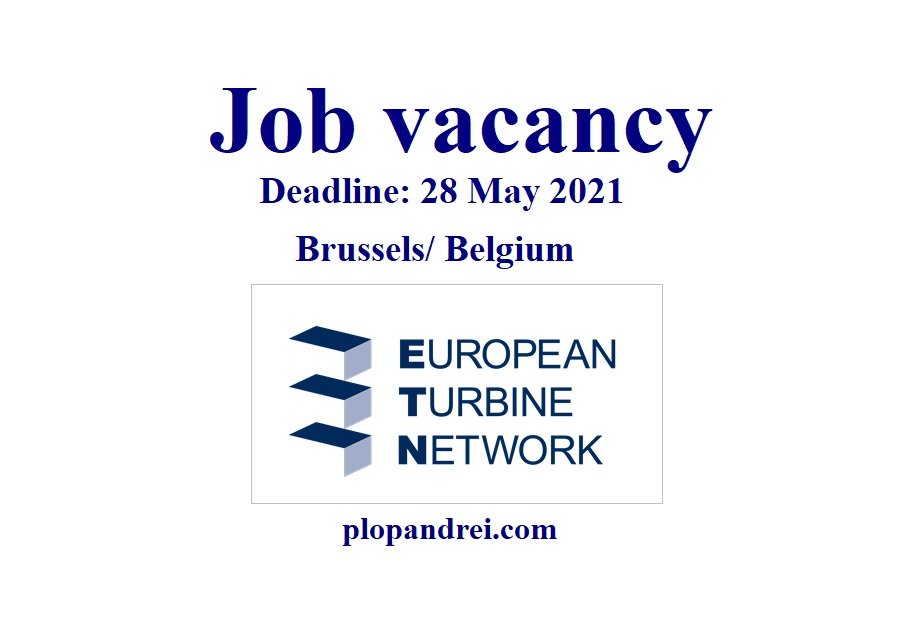 EU Project Officer
ETN Global is a non-profit membership association based in Brussels, Belgium, bringing together stakeholders of the whole gas turbine technology value chain. This technology is already playing a vital role in accelerating the energy transition and is expected to expand its strategic importance in a carbon-neutral society. Through cooperative efforts, ETN encourages and facilitates worldwide information exchange and collaboration to accelerate research, development and demonstration of safe, secure and affordable carbon-neutral energy solutions by 2030. With 110 members from 22 countries, ETN is a well-established and recognised international association. For more information about ETN, please visit our website: www.etn.global
EU Project Officer
We are looking for an EU Project Officer, who will be responsible for communication and dissemination activities in EU-funded Horizon 2020 R&D projects, but who will also provide support in management and coordination tasks. In this exciting role you will work closely with project partners and ETN members, from the energy and power generation user community to the gas turbine manufacturers, suppliers and the research community. To be successful in this position you will need excellent spoken and written English skills and experience in communication, dissemination, and project management, as well as the ability to work with tight deadlines in a focused and productive manner. You will be working in a modern office in an attractive part of central Brussels.
How to Stop Missing Deadlines? Follow our Facebook Page and Twitter !-Jobs, internships, scholarships, Conferences, Trainings are published every day!
Tasks will include:
Project communication & dissemination strategy and activities;
Project coordination and management assistance;
Support and management of technical working groups in cooperation with the wide range of stakeholders involved, and with the support of the chairpersons of each group;
Involvement in related energy and research & innovation platforms of the European Commission;
Energy policy monitoring;
Organising meetings and conferences, providing logistical support, and drafting background documents and meeting reports;
Creating professional-looking project communication and dissemination materials in accordance with brand guidelines, with a fine-tuned attention to details;
Editing, updating and maintaining ETN communication channels such as the ETN website, and other knowledge pooling platforms;
Working with the ETN team to manage membership activities and providing optimum services to members.
The ideal candidate will have:
A master's degree in energy management, engineering, European studies, political science or international relations, with a keen interest in the energy sector and the energy transition;
Excellent oral and written English, and ideally knowledge of other languages;
Excellent communication and dissemination skills, and ability to network at ease;
Project coordination skills;
Good affinity with MS Office applications and IT in general. Website management knowledge is considered a plus;
A positive attitude, good organisational skills;
EU-project and energy policy/industry experiences would be an asset.
We offer:
A professional and international turbomachinery network at the forefront of the energy transition;
A position as a focal point for the gas turbine community;
The occasion to work on innovative concepts and technologies;
The opportunity to work with high-level experts and senior managers;
Intensive coaching for a future career in the energy sector.
To apply, please send your CV and motivation letter to Mr. Björkqvist at info@etn.global with the subject "EU Project Officer Application 2021" before 28 May 2021. Only candidates selected for an interview will be notified.
The successful candidate is expected to start as soon as possible.
For more information please open this link